Noel wrote:
Silver wrote:
Noel wrote:
Still not sure what direction I'll go. Beta 350 or 250fx. I really need a street bike more than another dirt bike, not really wanting to sell the 500 just yet.
Yeah, all depends on what direction you want to go. Lotta dual sport rides looking fun. I'm pretty much all dirt for now and the next bike though, if I get a dual sport it'll probably be a XR650 of some sort.
KawaDon wrote:
Do you have inner ear problems?
what
I don't know, after seeing Kit's 690, its too damn big. And those dual sport tires that you use on a heavy dual sport like that are about useless in anything more than a dirt road. I would like to see how well the 500 does on all day dual sport trips like TAT. Just use a backpack, not wanting to get one of the giant loop bags or anything. I will have to get a different seat though. Even then, I think even a 606 knobbie will be dead by 1500 miles.
Probably right about the 606. Seems most of the TAT riders using them install new ones half-way through.
Altrider makes a bag similar to the Giant Loop bags which is overkill for day riding (though great for TAT, Continental Divide, etc.). The nice thing is that it's modular and you can buy the holster separately.
Full kit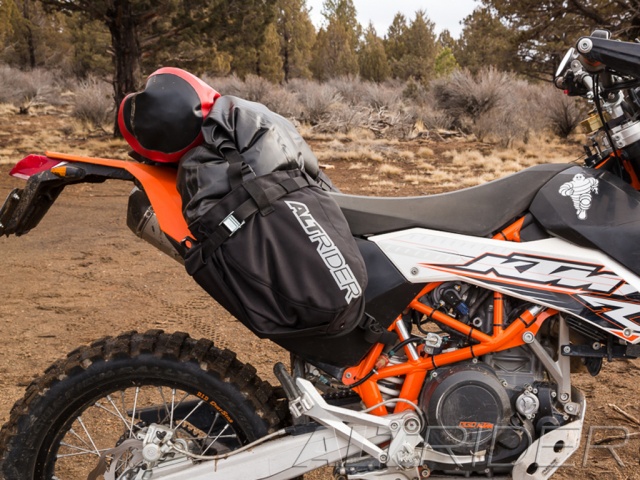 Empty holster
Noel ready.
You even throw a couple smaller dry bags in if you want more but not the full deal.
Just throwing some options out there.
I still think the 690 would be a great replacement for my 650GS. Good for street, back roads, fire roads, etc. but stopping short of anything single track. I used to do some single track on my TW200 back in the day. It was nearly as heavy as the 690 and way underpowered/undersuspensioned. More work than it was worth for that unless you just had to get through a short section to get through. I took the TW200 out on the local motocross track and one lap of that wore me out. Add a 350EXC to the stable and be set for everything short of 2 up touring.